We have some active, vocal, and oh-so-adorable new residents at the Museum! They are fuzzy, grow fast, and have little wings and tiny beaks. Do you know what these mystery guests could be?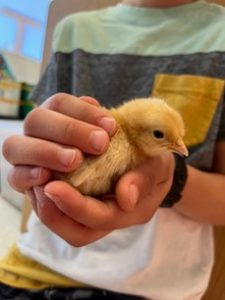 If you guessed chicks, then you'd be right!
This isn't our first foray into raising chickens. Prior to the pandemic, we cared for these special animals in our Edible Schoolyard.
In the last two weeks, we purchased 10 laying hens that consist of eight different breeds. We sourced the birds from Old Biddy Hatchery in Burlington, NC, and Pittsboro Feed, in Pittsboro, NC. Some of the little ones were only two days old for their first not-so-easy-to-get photoshoot!
For about the next six weeks, the flock of chicks will live under the guidance and care of our Garden Educator, Billy Wong. They will stay inside with staff until they are ready to move out to the coop.
Billy takes special care of the chicks as they are his current noisy officemates. "Right now, they're roosting next to my desk, but you'll soon see them outside in our newly refurbished Poultry Paradise this July!" he says.
A question people may ask: why chickens? Well, according to Stephanie Ashton, the Education and Edible Schoolyard Director, chicks are great additions to a food garden. Chickens eat weeds, till soil by scratching the surface, and add nutrients into the soil from composted waste. When cooking classes resume, we'll be excited to share fresh eggs with students!
Chickens also play an important role in Edible Schoolyard field trips. Students participating in these programmed trips will visit the coop for a lesson about animal care and life cycles. In the past, the chicken station was the favorite amongst our school-aged visitors!
Now, it's time to ask a favor of you! Most of our chicks still need names. Our Museum staff chose the theme herbs and spices. Please complete this survey to help us give each chicken their perfect herb and spice-inspired name. You may see your name choice featured in our future chicken look book in the Edible Schoolyard!
Until then, they will be chirping away!