"Cooking with kids is not just about ingredients, recipes and cooking. It's about harnessing imagination, empowerment and creativity." -Restaurateur Guy Fieri
When children spend time in the kitchen, they build confidence and learn a life skill. As your child grows and develops through creation, you get to spend quality time as a family and introduce them to new foods. (Tip: Kids are more likely to eat foods they prepare themselves!) The Greensboro Children's Museum is committed to promoting wellness and healthy living for all children and families. Using fresh produce from its half-acre learning garden, GCM offers cooking classes for all ages year-round. Here are three of GCM's favorite fall recipes for you to try at home with your kids.
Butternut Squash Muffins
Ingredients:
14 ounces butternut squash, skin on, deseeded and roughly chopped
2 ¼ cups light soft brown sugar
4 eggs
2 ¼ cups all-purpose flour
2 heaping teaspoons baking powder
1 teaspoon ground cinnamon
¾ cup coconut oil (melted) or olive oil
Directions:
Preheat oven to 350 degrees.  Line muffin tins with paper cups.

Whiz the squash in a food processor until finely chopped.  Add sugar and crack in the eggs.

Add  flour, baking powder, cinnamon, oil, and a pinch of salt and mix until well beaten.  Scrape down the sides, if necessary to combine all of the ingredients. Do not overmix.

Fill the paper cups with muffin mixture.  Bake in preheated oven for 20-25 minutes. If a wooden toothpick comes out clean, they are done. Remove from oven and let cool on wire rack.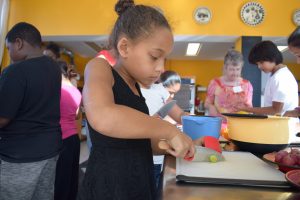 Neolithic Fruit Salad
Ingredients:
1 apple
1 pear
1 persimmons
grapes
1 kiwi
1 clementine
seeds from 1/2 pomegranate
¼ cup dried cranberries
¼ cup raisins
¼ cup sunflower seeds
2 dates, pitted and chopped
Juice of 1 orange

Directions:
1. Wash all fruits in cold water.
Core the apples and pear before slicing.

Cut fruits in a variety of shapes to showcase their beauty.

Arrange in a large bowl. Add pomegranate seeds, dried cranberries, raisins, sunflower seeds, and dates. Mix to combine.

Add the orange juice and toss gently.
Baked Sweet Potato Fries
Ingredients:
3 large sweet potatoes
¼ cup olive oil or vegetable oil
1 Tablespoon sea salt
1-2 Tablespoons spice of your choice
Directions:
Preheat oven to 450 degrees.

Cut sweet potatoes into wedges of about same size. Place in a large bowl.  Add the oil, salt, and spices of your choice. Use your hands to mix well.

Spread sweet potatoes on a baking sheet in a single layer. (Do not crowd to avoid soggy fries.)

Place baking sheet in oven for 15 minutes. Remove sheet from oven and flip all of the sweet potato wedges. Return to oven to bake for another 15-20 minutes, until well browned. Baking time will depend on the size of the fries.
After you and your child try one of these recipes, tackle a new one by registering for a cooking class at the Greensboro Children's Museum. For a complete list of GCM's cooking classes, visit mbcmuseum.com.